A patent illustration is a visual representation of an invention. Basically, it helps in a better understanding of the invention. Patent Illustration includes drawings of embodiment, flow charts, several views, stages, chemical equations, reference numbers, etc. However, it is mandatory to draw it in a specific format or standard given by the patent office. Also, the illustration should showcase each feature of your invention mentioned in the claim.  So, let's discuss patent illustration importance in detail.
Related Article:Important Tips and Tricks to Remember about Patent Illustrations
How Patent Illustration Importance is declining?
Patent illustration importance is decreasing nowadays as financial pressure is restricting companies to invest. Also, there is an availability of advanced drafting tools. These tools have simplified the illustration process. But, the drawings that are made using tools may be well accepted in utility patent. As, they emphasize more on written "claims" of your invention. However, design patents require strong drawing representation to obtain patent protection for your invention. Illustration plays a vital role in the understanding of design patent. Hence, its scope majorly depends on the drawing part. In design patents, illustrations are used for the description of designs primarily for two reasons:
To help patent examiner differentiate your design from other prior designs.
To convince a jury or judge about the infringement done on your design claimed in your patent.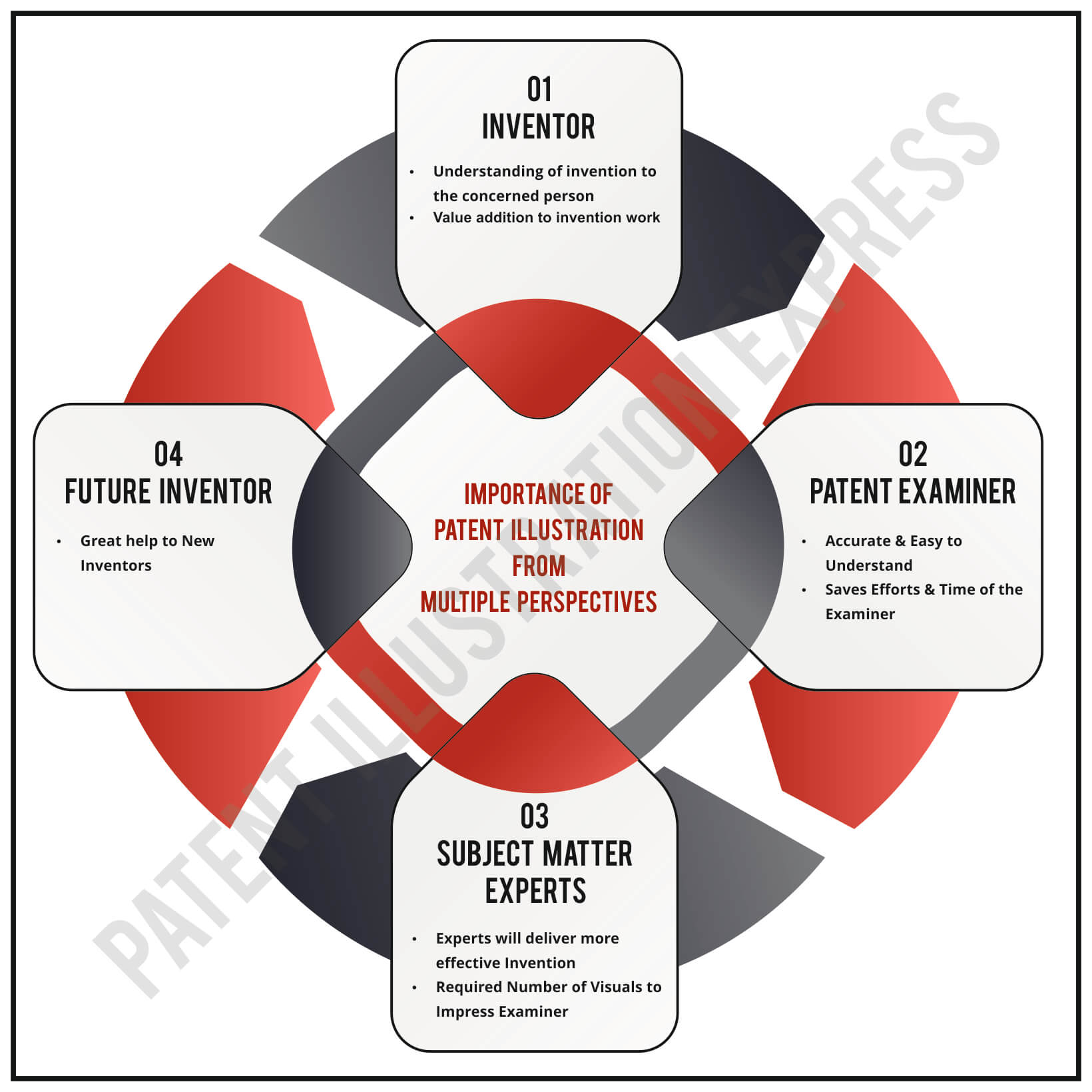 How is patent illustration important from multiple perspectives?
1.Inventor's Perspective
Being an inventor you should know that your patent illustration helps the concerned person understand your invention. Also, it adds value to your invention work.
2. Patent Examiner Perspective
No matter how complex your invention is, drawing makes it easy to understand. Consequently, it saves efforts and time of the patent examiner leading to avail patent protection more easily.
3. Subject-matter expert's Perspective
Subject matter experts have good technical knowledge about inventions. But, using drawing experts can make your invention more effective. They will surely help you present your invention work with the required number of visuals. This will ultimately impress the examiner.
Click Here to Download (Free Samples)
4. Future-Inventor's Perspective
Your patent drawings will be a great help to the new inventors who wish to work on your topic.
Related Article: Why you should not avoid accurate patent illustrations?
Why Us
In view of the above discussion, it is justified that you should not ignore patent illustration importance. Hence, Patent Illustration Express is all you need for quality illustration service. We have a team of highly experienced professionals who have expertise in various domains. Also, they excel in mechanical and electrical engineering, medical, biotechnology,and many other related domains. Moreover, we adhere to the USPTO requirements to deliver you best quality service.
To make an enquiry, visit the Patent Illustration Express Services.
Other Related Articles:
Virtual IP Paralegal: Why Should You Hire One?
How to Write a Patent: The Most Important Tips, Tricks and Hacks
Patent Filing Process in 3 easy steps
Click Here to Download (Free Samples)