Utility patent drawings are a graphical ways of representing your invention. They form an important part of utility patents. These drawings are useful to explain a complex invention in graphical form.  Thus, they have a significant role in the patent application approval process.  
Why should you include utility patent drawings in your patent application?
Utility patent drawings are simply graphical representations of your innovation/invention. They are a straightforward and effective way to put forward your idea.
The drawings also provide basic knowledge to the patent examiner about the components of your utility patent application.
A patent application without drawings becomes complicated and harder for the examiner to understand. Thus patent drawings are the underdogs that can make or break your application.
A utility patent application is not acceptable if it is not accompanied by at least one utility patent drawing. This is also why patent drawing becomes important as your application is liable to get rejected without one.
A well-explained utility patent drawing has the potential to up your representation game and guarantees the approval of your patent application.
Also Read: Top 4 Interesting Patents
Important Points to consider before starting with a utility drawing
First of all, you should be very clear about the basic idea and end goal of your utility drawing.
Go through all the USPTO guidelines and requirements of utility patent drawings to avoid any rejection at a later stage.
Make the point of novelty the focus center of your drawing. The point of novelty is the idea that makes your invention different from already existing technology in the market. Thus, your patent drawing should be able to capture the point of novelty of your invention. Thus, the point of novelty is to allow you to represent:
How your invention operates differently from existing technology?
What additional benefits your innovation provides?
Also read: Patent Illustration Importance From Multiple Perspectives
Views and Utility Patent Drawings
USPTO has defined many views that can be used to explain the minute details, particulars, and functional points of your invention. Some of these views are:
Exploded views
Partial views
Sectional views
Alternate position
Modified forms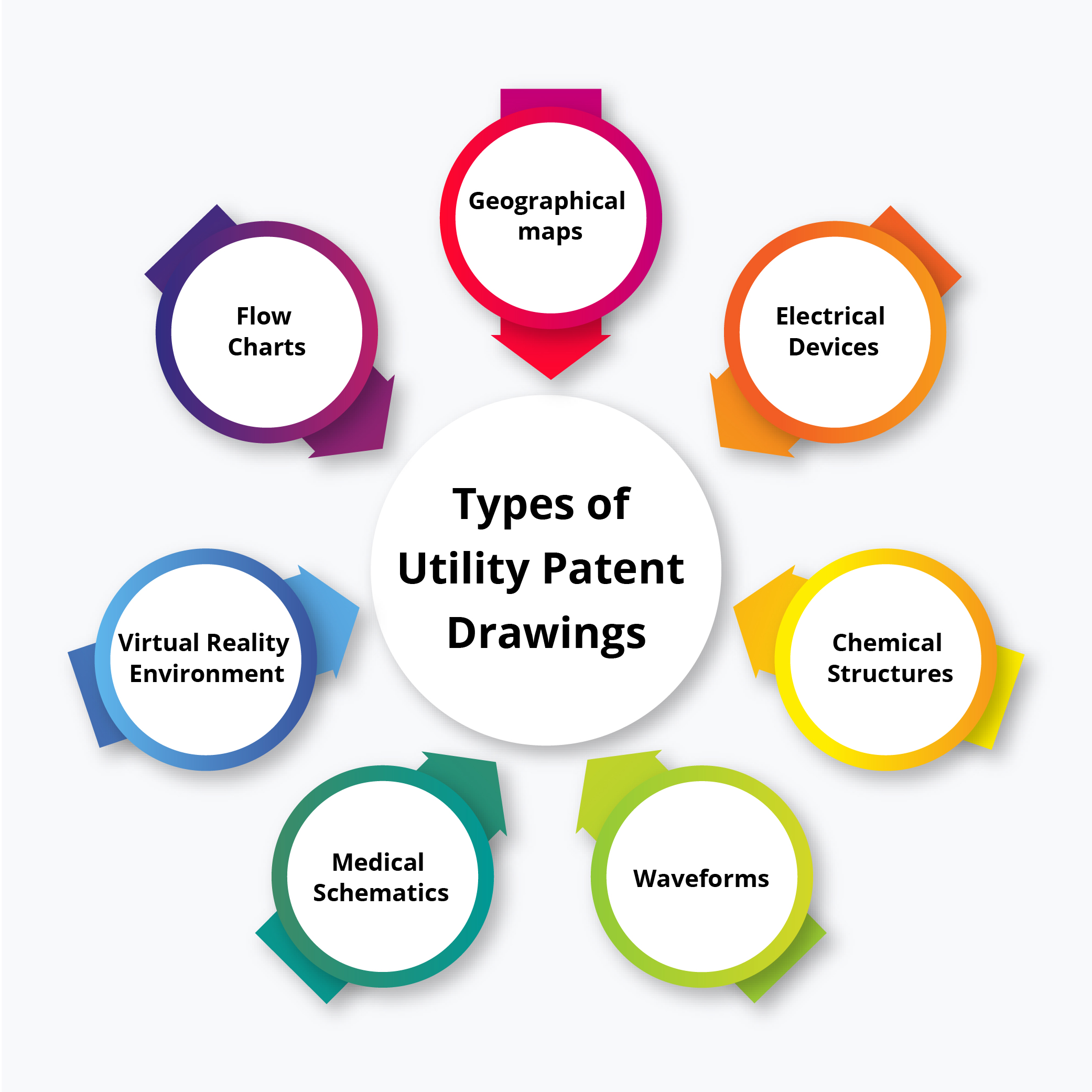 Also read: The Patent drawing Rules
Utility Patent Drawing Requirements/Guidelines
USPTO guidelines aim to provide the base idea to illustrators and maintain uniformity in standard procedure. Besides, USPTO guidelines Moreover, help your patent application approval process go smoothly and maintain uniformity. Thus, these requirements are like guiding light for patent illustrators to draw effective and clean drawings.
Black and white paper is the most preferred paper for utility patent drawings. However, you can also use color paper if needed.
The dimensions of the drawing sheet have to be 21.6cm X 27.9cm.
Margins should be present with the following dimensions:
Top – 2.5 cm
Left – 2.5 cm
Right – 1.5 cm
Bottom – 1 cm
The usable sheet surface after margins is 17cm X 26.2cm.
Use Arabic numerals for numbering the sheets. Also, make sure that numbering is not done in the top margin. If your utility drawing is huge and approaching the top margin, then you can place the numbering on the right side of the sheet.
The reference characters and lead lines with arrows are important to include details in your utility patent drawing. The reference characters should be the same that are present in the drawing. You can also connect the reference character to the drawing with the help of a lead line. If some portion of your drawing shows up in more than one illustration, then you may use the same reference number.
To make the identification easier in case of mixing of sheets, an identification number is put in the top margin. These markings represent the invention, name of the inventor along docket number.
Our Utility Patent Services
Our expert team of patent illustrators is well versed in drafting utility drawings accepted worldwide. We use the best tools to provide the best results consistently at affordable budgetary offers. We ensure to maintain accuracy and minimize the objections from the examiner during approval. Want to know more about our services? Visit us here
More Related Articles
3 Important Elements of a Good Patent Drawing
4 Key Software to Make Your Patent Drawings More Creative