The patent illustration is not only used to represent a technology graphically but also to show its functionality. Additionally, illustration in IP litigation plays a vital role leading to complete patent protection. It is true that drawings make invention easy to understand in comparison to lengthy written explanations. Moreover, an accurate patent illustration makes your application strong. It also accelerates the application process by helping patent examiner understand your invention and associated claims.
Related Article: How to Write a Patent?
What is IP Litigation?
IP litigation is the legal process which comes into action when a patent owner enforces their right by suing the infringer for using, selling or manufacturing his/her invention without consent. It can be of several forms involving patents, trademarks, copyrights, and trade secrets etc. However, other kind of IP litigation includes variations of the above forms.
No doubt, litigation brings a lot of problems. It is always good to discourage potential infringers before their emergence. A strong patent having accurate patent drawings as per USPTO guidelines will make an infringer think twice before copying your invention idea. Therefore it is important for you to take action against potential infringer as early as possible.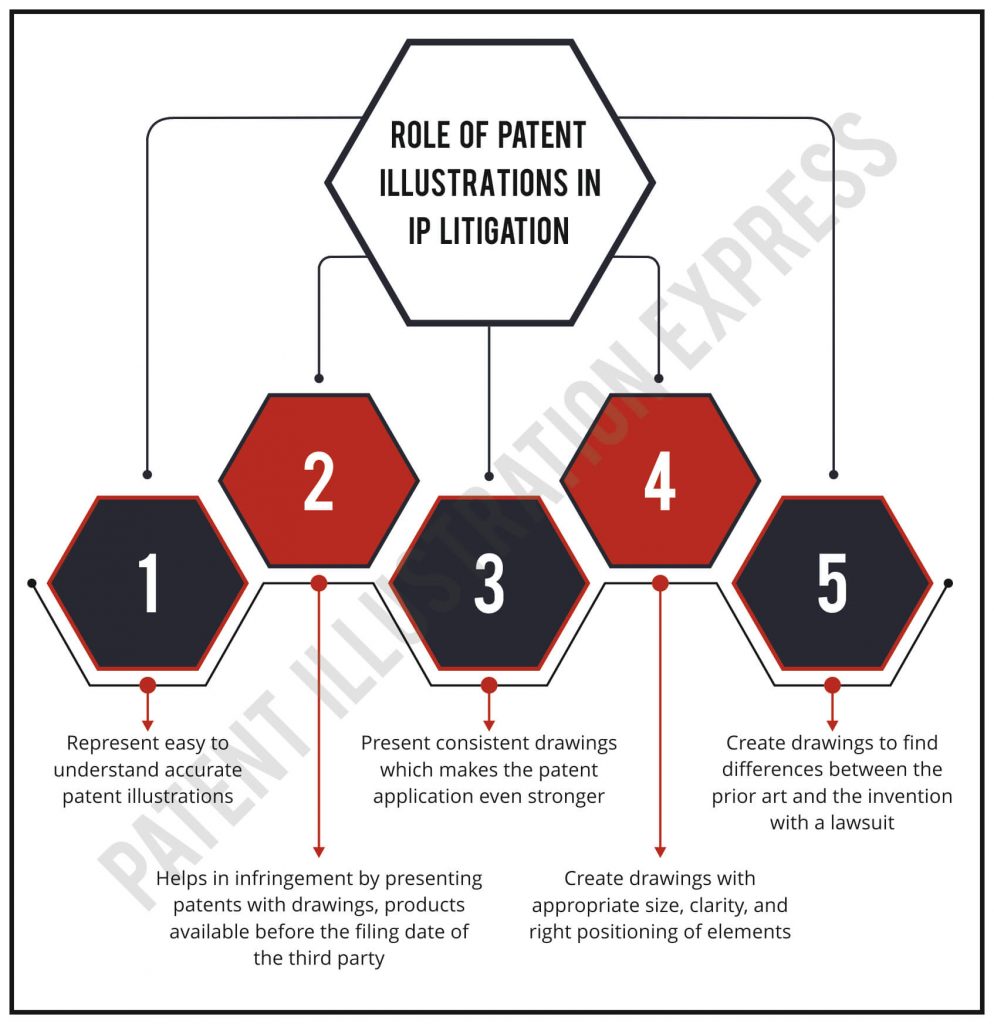 What are the benefits of illustration in IP Litigation?
One of the major benefits of accurate and clear patent drawing is to give a good understanding of patent claims to the jury members and judges. No doubt, during jurisdiction judges prefer to take a copy of patent docket along with complete set of drawings instead of any trial. A matter which may be clear to patent examiner may not be clear to jury and mediator. So, it is not a good idea to involve unnecessary things in patent drawings. Additionally, an accurate patent illustration made using software and computer-aided design helps in trial and negotiation purpose. It also avoids a creation from the scratch. Moreover, a correct patent illustration saves both time and money of the patent owner.
Click Here to Download (Free Samples)
What is the Role of Patent Illustrations in IP Litigation?
Skilled patent illustrators know numerous ways of representing attractive and accurate patent illustrations which are easy to understand. Be it 3D animation drawings or blow-up charts, illustrators draw as per the required information.
Patent illustration becomes a great help in case of any infringement against your product by presenting patents with drawings. Also, products or publication's available before the filing date of the third party is of profound help.
Drawings with appropriate size, clarity, the positioning of elements and the highlighted key elements make it more appealing and attractive.
Moreover, the presentation of drawings with consistency makes the patent application even stronger.
Additionally, a good patent drawing helps in finding differences between the prior art and the invention with a lawsuit.
Why Choose Patent Illustration Express?
If you don't want to get into patent litigation issues, Patent Illustration Express is the best companion for you. Over the years, we have been offering accurate and cost-friendly patent illustration services to our clients. We have a strong and experienced team of draftsmen who perform hundreds of drawings every day. They keep themselves updated about new software and technologies to deliver the best illustration solution to the clients. Also we maintain 100% compliance with the USPTO rules and standards. To know more about our pricing click on the link.
Other Related Articles:
Difference between Illustration and Drafting: For a Perfect Patent Application
Patent Watch Services : A Vigilant Eye on Patent